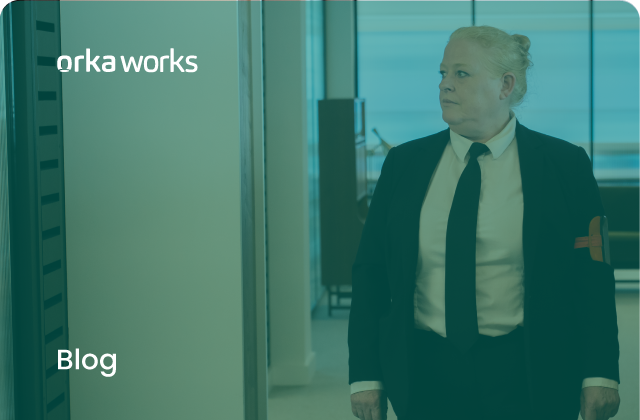 Orka Worker and SIA Qualified Door Supervisor, Alix Foster, has almost 10 years of experience with Door Supervision in hospitality. Orka Works was recommended to her by a friend, and her goal was to use the app for full-time employment.
Here's a summary of her time as an Orka Worker and what she thinks the main benefits are.
Innovating the application process
"With Door Supervision finding jobs is all about word of mouth. You'll hear there's work available or you'll hear that someone needs staff and you have to reach out." Explains Alix, saying she had experiences where interviews came across as both unprofessional and a waste of her time.
"Whereas with Orka Works, rather than going online and trudging through all the different applications, you know an employer needs someone for that period of time. Rather than just collecting CVs and people's names and then never contacting you."
Alix uses the app for full-time employment and has so far worked with two employers.
Want to try the app yourself? Download it today.
Favourite features
Orka Works is quite a different approach to applying for jobs, but what features within the app does Alix find the most useful?
"InstantPay!" Says Alix.
InstantPay is a feature that lets all our Orka Workers withdraw up to 50% of their salary as soon as they've worked a shift. It's meant to improve the financial well-being of our workers, and you can read more about the feature here.
Anything else?
"The fact that you can go onto your applications and see what you have coming up and what's pending is really helpful too. You have your calendar there right in front of you, rather than having to manually keep track of things with a diary to see when you're free."
Community and support
Alix mentions that one of her reservations before joining Orka Works was wondering if she'd have help if she needed it. The Orka Works Community team work hard to give personalised service to our workers, and she's found the support to be great.
"If you have questions you can chat to someone. A lot of time in Security, you can't be on your phone, so it's great to be able to send a message to people if you have questions and speak to members of the Orka Works team."
To try the app yourself, download it here: