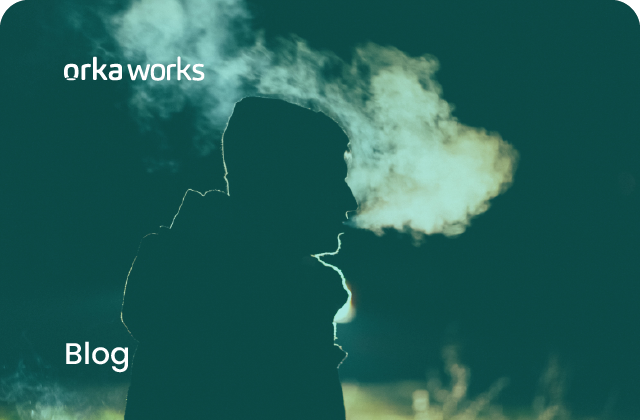 The UK is experiencing a difficult winter. With temperatures regularly going below zero and heating becoming more expensive, we want to give our workers some tips and help on how to stay warm in winter. Here's how to stay safe and warm during cold weather at work and at home.
1. Have warm drinks
Have tea, coffee, hot water with honey and lemon and hot food wherever possible. Consider bringing a thermos with something warm to drink or some soup to warm you up.
2. Wrap up warm
Wear thermals, a jacket, a hat and a scarf to keep your nose and ears warm. 40-45% of body heat is lost through the head and neck, so keeping these areas covered is vital. Consider reusable hand warmers to stay warm in winter.
3. Prepare
Before a shift or leaving the house in general, check the weather report and determine how to dress to stay as comfortable as possible.
4. Adapt your uniform
If you are required to wear a uniform, and it is making you feel too cold, speak to your employer about whether you can wear something more suitable. For instance, you can ask whether you can wear a jacket, a scarf and/or a hat.
5. Adapt your footwear
Having cold feet makes your entire body colder. Adding a pair of insoles designed especially to keep out the cold, or wool socks, can help keep your feet warm without spending lots of money on new winter boots.
6. Communicate with your employer if you feel unwell
If you feel freezing and experience symptoms like slurred speech, loss of coordination or numbness in hands and feet, speak to your employer and try to get warmed up as soon as possible.
7. Stay dry
Exposure to rain, sleet, snow and sweat can make you cold throughout your shift, especially if it's windy! Bringing an extra set of clothes or wearing layers can help prevent this.
8. Plan your journeys
Expect delays because of the cold, especially with trains and buses. Due to snow and ice complicating these services, it's important to always dress appropriately in case you find yourself waiting around.
9. Pay attention to your own health & wellness
Pay attention to your general health during cold months, especially if you're working outside. Hypothermia (this is when your body loses more heat than it's able to produce) can occur even in milder temperatures, such as 10°C. Make sure you know the symptoms and how to manage this.
10. Drink plenty of water
Drinking plenty of water is just as important in the cold as in hot weather. Winter air is usually drier and can cause dehydration.
11. Maximise sunshine
Keep your curtains open during the day to try and maximise sunlight. However, it would help if you closed your curtains before dark to keep the heat inside the home. If you notice draughts (such as underneath windows, doors and in fireplaces), you should try to block these areas.
12. Hot water bottles
Try to use hot water bottles to keep yourself warm at home.
13. Cover up
If you're watching TV or doing something that means you will be staying still, cover yourself with a blanket or throw.
14. Find your nearest warm bank
Consider using warm banks near you.