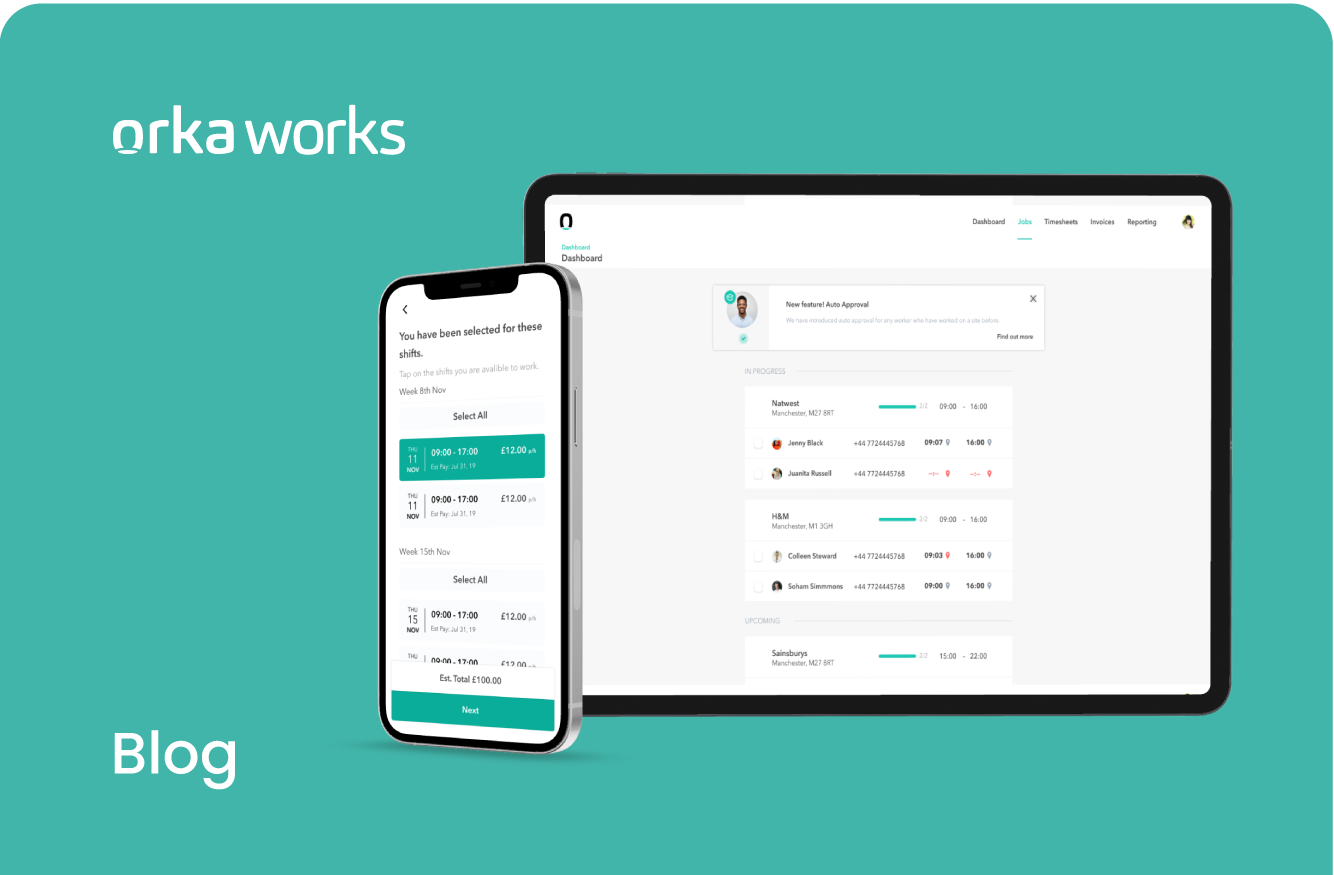 AutoFill is Orka Works' newest feature that uses Artificial Intelligence in WorkerTech. It helps you fill shifts automatically and saves you time, effort and manual labour. To make sure our clients are getting the most out of the feature and have all their questions answered, here is everything you need to know about AutoFill.
What is AutoFill?
AutoFill is a new Orka Works feature designed to save time and effort by automatically filling shifts with the best workers for the role. It applies Artificial Intelligence in WorkerTech to help our customers find the best people for jobs.
How does it work?
If you have a vacant shift and receive applications from a site-trained worker, our AI algorithm will evaluate the applicant. Then, if that worker meets the threshold set by the matching algorithm, we'll automatically fill the shift for you – no intervention needed!
What if no one meets the criteria?
AutoFill will only select amongst the highest rated site-trained workers, meaning if no one matches the criteria, the system will revert back to manual selection. It will never choose a worker at random or someone who hasn't worked on your site before.
How do we score workers?
Several factors decide whether the worker is a good enough match to be automatically approved. This includes everything from how much they've worked for the site, their company/role before this, their star rating, their distance from the site and the number of shifts they've applied to.
How do we know we can trust it?
Orka Works' own development team developed AutoFill. By using data on the app and going through a rigorous testing and optimisation process, we've been able to iron out any issues with the AutoFill function before setting live.
Have we tested it?
Several clients have thoroughly tested AutoFill. You can read more about their experience here. The testing and pilot of the feature spanned over 4 months.
What if I have a specific worker in mind for a shift?
No problem! Simply select that specific worker, or several workers, using the worker search when adding your shift. The shifts will not be visible on the Orka Works job search page, and the job will only be able to be AutoFilled by the worker you've selected. When they apply, we'll automatically accept their application for you.
How do I switch on AutoFill?
That is all done from our end. All you have to do is post shifts as usual and watch them get filled – automatically!
Will this change how I use Orka Works?
You will still get the same benefits and transparent process on the Orka Works portal. You can continue to post jobs as you usually do, follow any instructions from the portal and watch AutoFill fill shifts for you.
Is there anything I can do from my side to prepare?
There is nothing you have to do from your end, but reviewing, organising and growing your pool of pre-approved workers is always recommended for our users. Clients that have tested AutoFill already also recommended that portal users give as much detail as possible when posting a job. This will help AutoFill scope what kind of candidate is needed.
What does this mean for workers?
AutoFill also has vast benefits for workers. There will be less time for them between applying and being approved/rejected for a job, making it possible for them to apply to several roles with you and other employers instead of waiting for your feedback.
For clients, this means that the workers who are approved are more likely to turn up to shifts, and not cancel, as the worker has a much faster response to their application
What do other clients think?
We've tested AutoFill with several clients before setting it live, one of which was Risk Management Security Services. We asked for their experiences and thoughts during the pilot, and this is what they said:
"Don't close your mind off to it. Try and forget about your initial concerns – it's natural for any operational person to have concerns about it, but see it work in real-life before passing judgement because it really does work! It has saved us so much time and hassle." Mick Stubbs, Account Manager at Risk Management Security Services.
To read more about our AutoFill pilot with Risk, click here.
I have further questions or concerns about AutoFill. What do I do?
We understand that clients may have questions about how AutoFill will affect them and how they use Orka Works day to day. If your questions were not answered by this blog, get in touch with our Client Success Team to run through any concerns you may have.