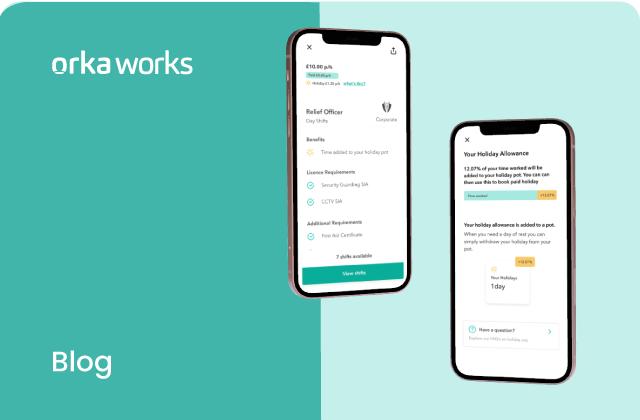 If you offer flexible work and pay, why can't Holiday Pay be flexible too? The team at Orka has been on a mission to revolutionise Holiday Pay for hourly-paid workers.
Here's how we solved it.
The challenge
Holiday Pay has long been a conundrum for the gig economy. It's even had screen time in High Court cases in the UK. Companies such as Uber have had to change their approach to how they treat workers and massive strikes have previously been a threat from Deliveroo employees. Orka is committed to providing ethical and fair conditions for users of our WorkerTech products. That's why we set out to improve Holiday Pay and guarantee the right to time off by refreshing our Holiday Pay system.
Workers used to receive their holiday pay rolled up. This means they received 12.07% of their shift directly in their wage. As a result, there was a lack of awareness amongst workers on how much holiday pay they had accrued and what they were entitled to. This needed to change, so workers have the ability to accrue holidays in hours.
"Our teams have been working really hard to figure this out, but the result has been quite revolutionising. We now add 12.07% of a worker's shift as accrued time into their Holiday Pay pot where they can withdraw, as and when they choose. They can also choose to withdraw their entire pot, or bit by bit – whatever suits their working patterns."

Cassie Watson, Product Manager at Orka Technology Group.
She also mentions that there isn't a cap on how much holiday a worker can accrue. They will receive all accrued holidays as a lump sum if not taken. This is something most companies shy away from doing.
Workers rights
She highlights there are still minor adjustments to be made, but that this is a hugely positive change to ensure workers get the appropriate rest and the time off that they need.
"Having regular breaks is a right. Hourly-paid workers can, in some cases, be misinformed or misunderstand this right. Our changes to the app make it very clear how much holiday pay you have accrued, making it easy to withdraw and prompting people to take a break within regular intervals," she says.
The process
Orka has been pursuing high levels of accreditation, which means putting ourselves through our paces in terms of quality and compliance. A labour provision accreditation called NCP119 was what initially sparked this change.
Realising how we were lacking compared to more traditional labour-supplying platforms was an eye-opener.
The Orka Product team struggled to find good examples to follow or other solutions to this problem. They had to think outside the box.
"Once we realise it was quite a disruptive manoeuvre, we spoke to the workers, asked what they would want out of a function like this, how they would want it to work and how it could improve their wellbeing," says Cassie.
From there, the Orka team started redesigning and rethinking holiday pay, focussing on worker well-being, awareness and clarity for the end-user.
The future of work is brighter
"We've had some really great feedback on the change from our workers already. We're all about empowering workers and making sure they're in control of their pay and hours. It's nice to see the feature change has made a difference for them already. "
— Yassir Semlali, Community Growth Manager at Orka Technology Group.
He says the transparency and clear communication around Holiday Pay will encourage more hourly-paid workers to take regular breaks.
"I think this will make a massive difference in the industry and I think the Orka Works team has really carved a new path in this space. We're pushing the standards higher, and this will in return mean our workers have higher standards when looking for jobs."